An Epidemic of Stress, Anxiety, and Loneliness in our Workplaces
We're facing a more volatile, uncertain, complicated, and ambiguous (eg. VUCA) world every day—and that's on top of the day-to-day stresses of navigating busy personal and professional lives. According to a study conducted in 2016, employees are using employee assistance programs (EAP) for stress more than ever before:
Between the years 2012-2014, EAP cases for stress rose 28%.

In 2014, 83% of all EAP cases were associated with stress, depression, and anxiety.
Other studies estimate that U.S. companies are losing $30 billion per year on stress-related sick days alone. At a personal level, this unrelenting stress causes inflammation and can lead to chronic illness; at a national level, is it a wonder why healthcare costs continue to rise?
Most solutions focus on individual behavior change—but in the natural world, stress resilience happens as part of a larger ecosystem. What if we could create environments and cultures, where we work, that support each individual's ability to handle and grow in the face of day-to-day stresses?
The solution is wiser workplaces...
...and the time is now.
That's why we created the Wiser Workplace Ambassador Program. It's a one-of-a-kind solution that equips employees at any level in an organization to create the skill, motivation, and environment that supports team members to navigate stress, build mindfulness, create connection and community, and be wiser at work.
What is the Wiser Workplace Ambassador program?
The Open Wiser Workplace Ambassador program is a unique opportunity for people who take company culture seriously to:
Facilitate a structured conversation that helps co-workers navigate stress better and build mindfulness

Foster resilience and compassion in the workplace with minimal disruption, resources, and time commitment

Create a community of like-minded Ambassadors from multiple organizations that learn from each other
Supported by a robust digital toolkit, calls with senior Wisdom Labs Faculty, and a best-in-class app, volunteer Ambassadors lead a series of meetups over a 12-week period at their respective organizations, discussing:
Mindfulness

Compassion

Awareness

And other topics related to mental, social, and emotional well-being.
Tested and perfected with our large enterprise clients, the Open Wiser Workplace Ambassador Program is now available to companies of all sizes that want to encourage individual and organizational behavior change from the inside out.
Program topic areas include:
When Overwhelmed, Do This

Goodbye Distractions, Hello Focus

Who Has Time For Creativity? You Do!

Be the Communication Ninja

From Conflict to Connection

Exhausted? Recharge Yourself
Pricing and Resource Commitments
For $1500, one Ambassador receives all of the resources they need to support up to 30 of their coworkers for three months.
To support their weekly sessions, we give each Ambassador a digital toolkit which includes:
5-10 videos that build understanding of the science and practice behind each week's topic

Group discussion questions that tee up sharing and greater connection

Bi-weekly 30-minute check-in calls with our faculty to support Ambassadors

Digital app to deepen practice and understanding at one's own pace
We also give each ambassador, and up to 30 participants, access to Wisdom Labs' Wise@Work app for three months.
What makes the Ambassador Program different from other training solutions?
This program is designed to be largely "vendor-less." Participants may notice Wisdom Labs in the video and the app, but the conversation is led by individuals within a company—so groups can go deeper where it makes the most sense for their business or organization.
Can one person really make a difference?
The 12-week Program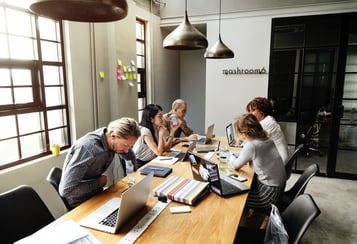 supports one Ambassador to lead and facilitate a different type of conversation with up to 30 colleagues. This gives each Ambassador a chance to make a significant social impact within their workplace (e.g. the number of people whose lives improve x how much they improve).
And, the benefits of engaging in the topics covered in this program don't just stay in the office—they lead to different conversations and ways of relating to family and friends.
What makes for a good Ambassador?
Wiser Workplace Ambassadors are committed to building better work environments for their teams and themselves. Passion, interest, and personal practice with mindfulness are great assets.
What are the benefits participating in the Wiser Workplace Ambassador Program?
In enterprise settings, volunteer Ambassadors were able to increase self-reported levels of mindfulness, resilience, and compassion by 9% amongst their colleagues after 12 weeks, as measured by scientifically validated assessments.
Additionally, this program is a powerful leadership development tool in disguise: Ambassadors are supported to engage and facilitate conversations about the "soft skills"—which, as we all know, are the most difficult to master. Participants in the weekly Ambassador sessions receive consistent engagement in core mindfulness and resilience skills such as:
Managing stress

Building focus

Improving communication

And developing emotional intelligence
Learn More about the Wiser Workplace Ambassador Program