An Epidemic of Stress, Anxiety, and Loneliness in our Workplaces
We're facing a more volatile, uncertain, complicated, and ambiguous world every day—and that's on top of the day-to-day stresses of navigating busy personal and professional lives. According to a study conducted in 2016, employees are using employee assistance programs (EAP) for stress more than ever before:
Between the years 2012-2014, EAP cases for stress rose 28%.



In 2014, 83% of all EAP cases were associated with stress, depression, and anxiety.
Other studies estimate that U.S. companies are losing $30 billion per year on stress-related sick days alone. At a personal level, this unrelenting stress causes inflammation and lead to chronic illness; at a national level, is it a wonder why healthcare costs continue to rise?
Most solutions focus on individual behavior change—but in the natural world, stress resilience happens as part of a larger ecosystem. What if we could create environments and cultures, where we work, that support each individual's ability to handle and grow in the face of day-to-day stresses?
That's why we created the Wiser Workplace Ambassador Program.
It's a one-of-a-kind solution that equips employees at any level in an organization to create the skill, motivation, and environment that supports team members to navigate stress, build resilience, create community, and be wiser at work.
What is the Wiser Workplace Ambassador program?
The Wiser Workplace Ambassador Program is a peer-led curriculum for learning and practicing mindfulness, compassion, resilience, and other skills related to mental and emotional well-being in the workplace. Delivered over consecutive 12-week periods, the program offers a unique opportunity for people who take company culture seriously to: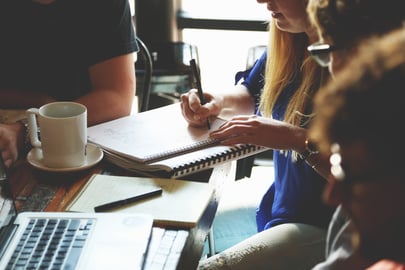 Facilitate a structured approach to better navigate stress while increasing creativity and productivity in the workplace with minimal disruption, resources, and time commitment.
Join and build a community of like-minded Ambassadors, in their own organization (Enterprise Program) or multiple organizations (Open Ambassador Program), to learn from and inspire each other.
Supported by a robust *digital toolkit, calls with senior Wisdom Labs Faculty, and premium access to the one-of-a-kind Wise@Work app, volunteer Ambassadors take on a meaningful leadership role in creating company culture. The Wiser Workplace Ambassador Program creates individual and organizational behavior change from the inside out at companies of all sizes.
Topic Areas Include:
Managing stress effectively
Honing creativity, focus & productivity
Building emotional intelligence
Empathy, compassion and collaboration
Mindful leadership
Self-care and wellbeing
Pricing and Program Details
$500/ambassador/month (3 months minimum)
48 weeks of curricula available in 12-week increments for increasing mindfulness, compassion, resilience and emotional fluency
at work
*Digital toolkit includes videos, discussion questions, and learning and engagement resources to support 30-min weekly sessions
Premium access to the Wise@Work app for up to 30 participants per Ambassador for 3 months
Introductory orientation and learning webinars (2.5 hours) for Ambassadors with Senior Wisdom Labs faculty
Bi-weekly 30 min learning and support calls for Ambassadors with Senior Wisdom Labs faculty
What makes the Ambassador Program different from other culture and wellbeing solutions?
This program is designed to be largely "vendor-less." While the content of the program is based on Wisdom Labs' domain expertise the conversation is led by individuals within a company—so groups can focus on changing work habits or behaviors that make the most sense for their organization.
Can one person really make a difference?
The 12-week Program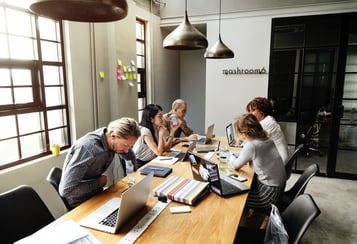 supports one Ambassador to lead and facilitate a different type of conversation with their colleagues. This gives each Ambassador a chance to make a significant social impact within their workplace (e.g. the number of people whose lives improve x how much they improve).
And, the benefits of engaging in the topics covered in this program don't just stay in the office—they lead to different conversations and ways of relating to family and friends.
What makes for a good Ambassador?
Wiser Workplace Ambassadors are committed to building better work environments for their teams and themselves. Passion, interest, and personal practice with mindfulness are great assets.
What are the benefits participating in the Wiser Workplace Ambassador Program?
Ambassadors gain valuable leadership experience facilitating meaningful conversations with their colleagues while building a community of wellbeing at work.
Participants in the weekly Ambassador sessions hone core resilience skills such as managing stress, building focus, improving communication and collaboration, and developing emotional intelligence.
In enterprise settings, participation in the Ambassador program led to a 9% increase in levels of self-reported mindfulness, compassion and resilience, as measured by scientifically validated assessments.
Don't Just Take Our Word For It
Testimonials from previous Wiser Workplace Ambassadors
If you're looking for a one-of-kind solution that equips your workforce to better navigate stress, build mindfulness and increase resilience, the Wiser Workplace Ambassador Program is it! I found the practical, science-based tools extremely effective for creating behavior change and the robust digital app was a perfect companion to support the weekly learnings. The Wisdom Labs team are accomplished and trusted thought leaders in the space and became amazing partners to work with. I would highly recommend the program as it provides an inviting gateway to mental and emotional well-being for all who participate. I personally can't wait to see the ripple effect it generates across corporate cultures.
— Director, The Daniel Plan

I work at a large tech company with packed calendars and full workloads, alongside colleagues and clients in the best of their class; all of which calls for the fullest version of myself. I appreciate that Wisdom Labs has constructed an extremely grounded mindfulness curriculum that taps into a variety of mindful meditation techniques, which are then realistically and practically applied in the workplace. My colleagues and I have noted an improvement in focus, communication, and a general sense of presence from engaging in this program. I'm grateful for this work and look forward to continuing our collaboration with Wisdom Labs.
— Agency Partner Manager, Facebook
Learn More about the Wiser Workplace Ambassador Program
Join Our Current Ambassadors
---